Gruene has been designated a Historic Town by the State of Texas. The name of the town is pronounced like the color "Green".
Henry D. Gruene, the town's founder, originally bought land for a cotton farm in 1872 with his father and brothers. He built his first home in 1872 and modified it over the years. It still stands proudly with its Victoria galleries today as the Gruene Mansion Inn. It is listed on the National Register of Historic Places and is a designated Texas Historic Landmark.
Behind the arch, there are numerous outbuildings that were part of the Gruene Mansion. These buildings were elegantly remodeled and are part of the Gruene Mansion Inn.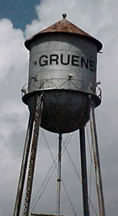 Standing high above the town buildings, the Gruene water tower is a beacon for miles around to all visitors coming to Historic Gruene for another entertaining visit.
Whether you are a "Weekender" or in town for the week or longer, Gruene is a wonderful "happening" for all!
Visitors from far and near, love the town of Gruene so much that they keep coming back every chance they get. No matter what your desires are, you are only moments away from shopping, eating, wine tasting, tubing, dancing, and lodging in just about any direction.
From Historic Gruene, Austin is 40 miles to the north, San Antonio is 25 miles to the south, and Houston is 160 miles to the east. New Braunfels and Canyon Lake are only minutes away.
The first mercantile store was built by H.D. Gruene in 1878 to serve the local cotton farmers and travelers who passed through the area. Later, the store was moved across the street in the Gruene Antique Store building.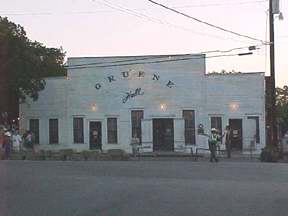 Gruene Hall
Gruene Hall, a bar and dance hall, was built in the 1880's and soon became the social center for the community. It still stands at the end of Hunter Road and the intersection of Gruene Road. It is oldest dance hall in Texas and many country-singing stars and legends have performed there over the years. Willie Nelson, George Strait, Jerry Jeff Walker, Lyle Lovett are some of the well-known singers. A complete list of the singers is displayed inside the hall.
Jump right in and cool off! The water's great for swimming, wading, tubing, and rafting. The whole family can enjoy a day in the waters of the Guadalupe River.